During the recent 9th Joint ECTRIMS-ACTRIMS Meeting, #MSMilan2023, future therapeutic strategies for individuals with MS was one of the Hot Topics under discussion. The challenges that underlie optimal treatment have long been recognised by clinicians and there is a need to look forward to optimise both the treatment and overall wellbeing of patients with MS. Several important clinical studies will be providing results within the next 2–3 years, and it is hoped that these data will ultimately guide future treatment decisions.
Is B-cell targeting still the optimal treatment strategy?
B-cells have been shown to be fundamental to the pathogenesis of MS. Hence, anti-CD20 monoclonal antibodies, which target B-cells, have become widely accepted therapies and shown to suppress clinical relapse for some individuals with MS. However, these agents may not impact progression independent of relapse activity, and their size precludes penetration of the blood–brain barrier (BBB). As part of the 9th Joint ECTRIMS-ACTRIMS Meeting, Jeremy Chataway [1] emphasised the richness of the current clinical trial environment and discussed treatment strategies beyond B-cell targeting, specifically sphingosine-1-receptor (S1PR) modulators. As small molecules, these agents have the ability to cross the BBB and so work directly within the central nervous system (CNS). Such central actions can directly impact the demyelination observed in MS, and may provide a more effective means of modulating disease activity in a larger group of individuals with MS.
Evolution of the treatment algorithm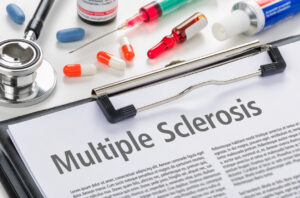 The introduction of novel therapies with different mechanisms of action necessitates a review of the accepted treatment algorithm for individuals with MS. The Bruton's tyrosine kinase (BTK) inhibitors affect a wide variety of immune cells that play important roles in the inflammation associated with MS, these include B-cells, natural killer (NK) cells and microglia. Given the ability of BTK inhibitors to cross the BBB, together with their mechanism of action, it has been hypothesised that these novel agents may have the ability to slow disease progression in individuals with MS. Although data from clinical trials are currently preliminary, preclinical studies have shown the ability of this therapeutic approach to suppress the pathological features of MS. As part of the Hot Topics session, Emmanuelle Le Page [2] raised the question as to where, ultimately, BTK inhibitors might fit into the treatment algorithm for individuals with MS, particularly if mature data should demonstrate a significant breakthrough that might alter the disease course of MS.
Promoting continued advances in research
The MS scientific community continually carries out a wealth of research, with the overall aim of improving patient outcomes and quality of life. Such research deepens our understanding of the disease, which will ultimately enable us to take a step closer to the provision of personalised care, with the potential to halt disease progression without jeopardising patient health. The exchanges of skills and information that occur between healthcare professionals at events such as the 9th Joint ECTRIMS/ACTRIMS Congress in Milan, Italy are invaluable, and can only serve to further improve our knowledge of MS and how best to manage patients.
***
ECTRIMS Insights articles are produced with the intent of being a neutral source of information sharing and objective analysis for the MS and neuroscience community. Unless otherwise stated, cited information in our articles does equivocate official endorsement from ECTRIMS.
***
REFERENCES
[1] Chataway J, et al. Beyond B-cell targeting or SP1 receptor modulator strategies. 9th Joint ECTRIMS-ACTRIMS Meeting. 2023.
[2] Le Page E, et al. Place of BTK inhibitors in treatment algorithm. 9th Joint ECTRIMS-ACTRIMS Meeting. 2023.