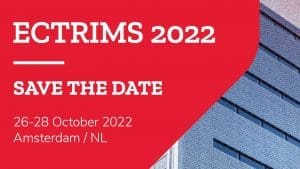 Watch this space! The final touches are being added to ECTRIMS 2022 – to be held this year in Amsterdam, the Netherlands, on 26-28 October as a hybrid event (on-site and online). From registration information to abstract submission and hotel bookings, we can't wait to show you what we have in store for this year's congress.
ECTRIMS has long prided itself on hosting the world's largest annual international congress devoted to multiple sclerosis. Bringing people together to discuss the latest innovations in basic and clinical research and care in MS has been and will remain a cornerstone of our mission. Amid the new COVID-19 climate the world has been thrust into since 2019, ECTRIMS has done its very best to transform and innovate the way we bring experts together for our congress.
In an article published on 16 March in Pharmaphorum, ECTRIMS President Maria Pia talks about the society's dedication in making sure it continues to deliver the best opportunities for networking on behalf of MS research, regardless of the actual physical/virtual space:
Connecting with our scientific and medical audience, and understanding their needs is an absolute necessity during our annual congresses. It is our job to ensure they are engaged in scientific discourse during the conference and beyond: i.e., they absorb it, share it with their colleagues, and ultimately use it to aid further advancement in MS research and care.
The article also applauded ECTRIM's keynote lecturer Roland Martin from the University of Zurich in Switzerland for delivering an engaging digital presentation on the latest MS research in translation. His lecture is available for viewing here alongside other key congress highlights.
The Annual Congress offers a host of educational sessions, plenary lectures, posters and young investigator sessions, as well as meet-the-expert opportunities. Last year's 2021 Annual Congress was held as a fully digital experience, bringing together some 7,000 participants from over 100 countries.