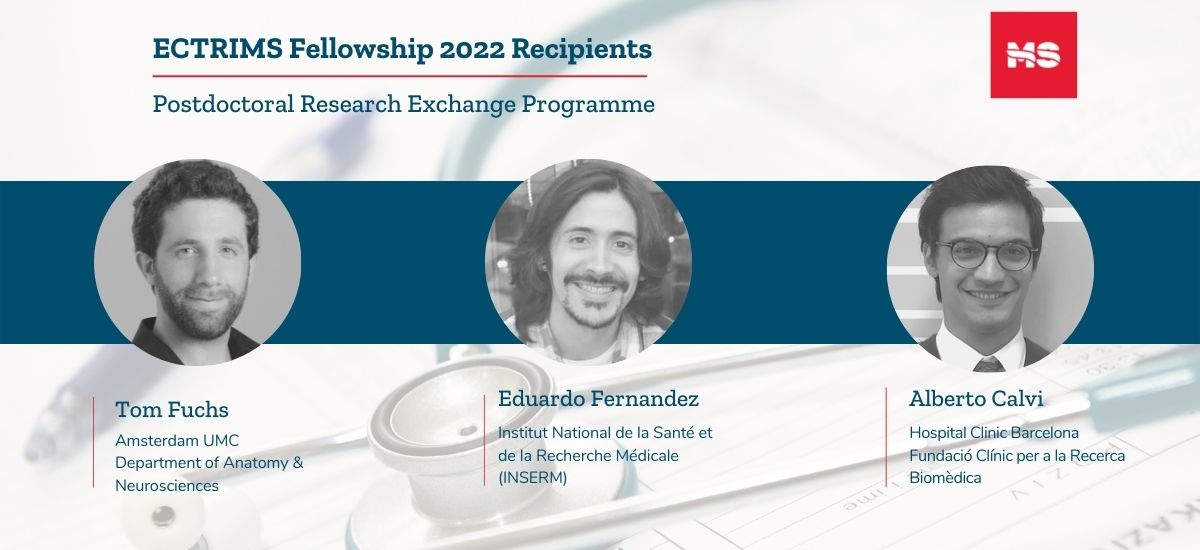 The ECTRIMS Postdoctoral Research Exchange Programme aims to provide young neurologists the opportunity to improve their training in basic, clinical or applied research in the field of multiple sclerosis.
Meet current recipients Tom, Eduardo, and Alberto:
Tom Fuchs is from the United States, and recently completed his MD and PhD training at University at Buffalo, Jacobs School of Medicine and Biomedical Sciences. During his two-year fellowship at Amsterdam UMC, which he will complete under the mentorship of Dr. Menno Schoonheim, Tom's research will focus on redefining progressive MS.
"Ultimately, my career goal is to be a leading MS neurologist clinician researcher," says Tom. "I'd like to produce clinically relevant research that impacts the health and well-being of people with MS across the world, and to benefit from the bidirectional relationship between clinical care and clinical research. My foremost career goal is to build my impact and reputation as an MS researcher."
Eduardo Fernandez is from Concepción, Chile and holds a PhD in Cellular and Molecular Biology from Universidad de Concepción, Concepción, Chile . He will be hosted by the Institut de Psychiatrie et Neurosciences de Paris (IPNP, INSERM U1266 and University Paris Cité) in Paris, France under the mentorship of Dr. Maria Cecilia Angulo. During his two-year fellowship, he will carry out his research project entitled: "Illuminating axon conduction and cortical circuit functioning during myelin repair".
"By working in Dr. Angulo's team, I will have the opportunity to learn about preclinical models of MS and to be directly trained by her on dual patch-clamp recordings in brain slices," says Eduardo. "I will not only significantly enhance my knowledge on a devastating neurodegenerative disease, but also gain new electrophysiological skills and get experience in other cutting-edge technologies such as optophysiology." Eduardo also notes that "as a member of INSERM, I will also have access to many trainings offered during the year by this national institute that cover a wide range of themes such as programming, statistics, biological techniques, career development, open access publications, among many others."
Alberto Calvi, a native of Italy, holds a bachelor in medicine and a specialisation in neurology from University of Milan, Maggiore Policlinico Hospital and he is going to defend his PhD thesis in September 2022 from Queen Square Multiple Sclerosis Centre, University College London. During his two-year programme, he will attend Hospital Clinic Barcelona, Fundació Clínic per a la Recerca Biomèdica under the mentorship of Dr. Sara Llufriu. He plans to study the integration of MRI metrics and biological markers of chronic activity to predict disability outcomes and treatment response in multiple sclerosis.
"I am a neurologist who has been working in the MS research area for about five years, developing experience on the translation of clinically relevant markers to support effective research of innovative treatments to reduce disability progression," says Alberto. "I have a strong commitment in pursuing a research-oriented career, and this grant will give me the opportunity to secure a continuation of my research in a post-doctoral activity." Alberto adds that "after completion of my PhD, I plan to seek a position where I can lead and conduct MS research projects with a translation to clinics, teach and contribute to my professional practice devoted to the care of people with MS."
Successful applicants like Tom, Eduardo and Alberto have the opportunity to build experience working on key research in the field of multiple sclerosis, while receiving training and mentoring throughout the programme.