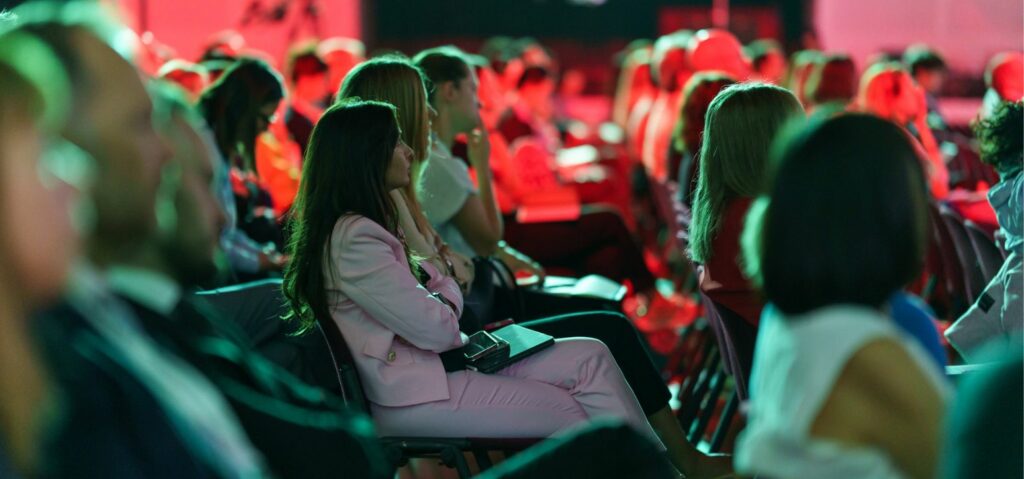 The three days of MSMilan2023 featured hundreds of lectures, presentations, symposia, and posters – and it fell to four speakers to sum it all up.
During the closing session, on Friday 13 October, Jacqueline Quandt, from Canada, and Tara DeSilva, from the US, gave an overview of the scientific highlights, before Antje Bischof, from Germany and Saúl Reyes, from Colombia, focused on the clinical highlights. Here's what they had to say,
Scientific highlights
"For us to really get a reasonable hit on stopping MS and progression, we really need to consider how well we understand the factors that can act as potential MS triggers, and how we understand the pathology and immunology," said Prof Quant, before highlighting a number of studies featured at MSMilan2023 that have helped to further this aim.
These included genome-wide association studies that showed little or no overlapping of susceptibility and severity genetic and epigenic risk factors. One found that Loci associated with MS susceptibility are related to immunity, while those associated with severity are involved in central nervous system (CNS) embryonic development and migration, she said.[1]  
Another investigated the effect of the recently discovered MS-severity variant, rs10191329, on pathological outcomes and functional changes. It reported a higher number of lesions, a higher proportion of activated microglia, a higher amount of acute axonal damage, and increased grey matter neuronal loss in MS patients with this variant, compared to those without.[2]
During Professor De Silva's talk, she said the recent success in silencing relapses and focal inflammation had unmasked the concept of progression independent of relapse activity (PIRA). In response, much work presented at MSMilan2023 focused on biomarkers of disease progression, both liquid and imaging, and mechanisms of neurodegeneration.
One, she went on, used novel combined PET/MRI imaging to look at activated microglia expression. "These studies showed that inflammation is diffuse, mainly involving white matter, rather than focal lesions, with a prevalence in subcortical, white matter areas," said Prof Dr Silva, adding that further analysis found that white matter inflammation was related to physical disability, whereas structural damage contributed to cognitive impairment.[3]
Moving on to discuss serum neurofilament light chain (sNFL), Prof De Silva presented a study that showed the biomarker correlated with longitudinal brain atrophy. That elevated baseline levels were associated with markedly faster atrophy than both healthy controls and people with MS with sNFL in the reference range. Even MS participants with levels repeatedly in the reference range, brain atrophy rates were around 80% faster than in healthy controls.[4]
Clinical highlights
MSMilan2023 also featured a number of studies relating to disease classification and phenotyping, explained Dr Bischof.
One poster, she said, showed that some children diagnosed with MS did not show a central vein sign (CVS) on MRI. Those who did were at a higher risk of increasing disability, as measured by EDSS, and of disease recurrence.[5] Another, also focused on paediatric patients, found that those with myelin oligodendrocyte glycoprotein antibody-associated disease (MOGAD) did not show a CVS or paramagnetic rim lesions (PRL).[6] These findings, said Dr Bischof, are useful for differential diagnoses.
She also highlighted a paper that matched people with MS to a virtual "digital twin" in an artificial intelligence model based on MRI scans of normally-aging brains. The age at which the patient's thalamic brain atrophy trajectory deviates from the trajectory of their hypothetical healthy twin can be considered as the onset of progressive brain tissue loss, Dr Bischof explained. It found that the onset age of progressive brain tissue loss was, on average, five to six years prior to clinical symptom onset.[7]
Dr Reyes said congress had featured much discussion regarding PIRA, which, he said, "clearly exists across all phenotypes". "We need to understand that PIRA doesn't just impact EDSS," he explained, pointing to a study that found the majority of cognitive decline events were not related to relapse-associated worsening (RAW). "Importantly, a significant proportion of patients experienced PIRA independently of physical disability."[8]
Treating silent progression is now a priority of the MS research community, and Dr Reyes highlighted data on approaches that hold potential.
BTK inhibitors, which he called the "closest thing we have to target PIRA in the near future", have shown sustained safety and efficacy in phase II long-term extension studies.[9],[10] "This is exciting news, but even more exciting are the results from the phase II trial of frexalimab, the anti-CD40 monoclonal antibody being evaluated for the treatment of MS," said Dr Reyes. The agent, which showed favourable outcomes with regards to the number of new Gd-enhancing T1 lesions and new or enlarging T2 lesions, represented a new therapeutic target in MS, he went on, and it will now go forward into phase III trials.[11]
"Although there is a long way to go, we are currently living through the best time in history for MS treatment," he concluded.
All MSMilan2023 sessions are available to view on demand until 31 January 2024. Register here to get your access.
---
References
[1] Ma, Q., Shams, H., et al. (2023). Integration of epigenetic and genetic profiles identifies multiple sclerosis disease-critical cell types and genes. Communications Biology, 6(1), 342.
[2] Engelenburg, J., Van den Bosche, A., et al. (2023, October 11 – 13). A new genetic variant associated with age-related multiple sclerosis severity associates with enhanced lesion activity and axonal damage. (Abstract). MSMilan2023: 9th Joint ECTRIMS-ACTRIMS Meeting.
[3] Gianni., C., Tommasin., S., et al. (2023, October 11 – 13). The association between white matter chronic inflammation and degeneration in multiple sclerosis: A combined 11C-PBR28 PET-MRI study. (Abstract). MSMilan2023: 9th Joint ECTRIMS-ACTRIMS Meeting.
[4] Sotirchos, E. S., Fitzgerald, K. C., et al. (2023). Associations of sNfL with clinico‐radiological measures in a large MS population. Annals of Clinical and Translational Neurology, 10(1), 84-97.
[5] Menascu., S., Haluskova, S., et al. (2023, October 11 – 13). Evaluating clinical correlation between disease progression and central vein sign in pediatric onset multiple sclerosis: An international study. (Abstract). MSMilan2023: 9th Joint ECTRIMS-ACTRIMS Meeting.
[6] Sacco., S., Virupakshaiah, A., et al. (2023, October 11 – 13). Susceptibility-based imaging aids accurate diagnosis of pediatric MS and myelin oligodendrocyte glycoprotein antibody-associated disease. (Poster presentation). MSMilan2023: 9th Joint ECTRIMS-ACTRIMS Meeting.
[7] Cen, S., Gebregziabher, M., et al. (2023). Toward precision medicine using a "digital twin" approach: modeling the onset of disease-specific brain atrophy in individuals with multiple sclerosis. Scientific Reports, 13(1), 16279
[8] See note – cannot find this on the congress platform or in the literature –  can you help?!
[9] Montalban, X., Wolinsky, J., et al. (2023, October 11 – 13). Update on long-term safety and efficacy of evobrutinib, a Bruton's tyrosine kinase inhibitor, over 5 years from an ongoing Phase 2 open-label extension. (Poster presentation). MSMilan2023: 9th Joint ECTRIMS-ACTRIMS Meeting.
[10] Oh, J., Reich, D., et al. (2023, October 11 – 13). Safety and Clinical Efficacy Outcomes from the Long-term Extension Study of Tolebrutinib in Participants with Relapsing Multiple Sclerosis: 3-Year Results. (Poster presentation). MSMilan2023: 9th Joint ECTRIMS-ACTRIMS Meeting.
[11] Vermersch, P., Granziera, C., et al. (2023, October 11 – 13). Phase 2 Efficacy and Safety of Frexalimab: 6-Month Results of a Novel CD40L Inhibitor in Relapsing Multiple Sclerosis. (Poster presentation). MSMilan2023: 9th Joint ECTRIMS-ACTRIMS Meeting.